Library
The library has a large storage capacity not only for books but also for audio and visual resources, and has the best collection of New Zealand related books and materials in Japan. Personal Computers are equipped for the purpose of your study. The materials in Chido Library (Tsuruoka Campus) and in Sakata City Library are also available.
Accommodation
Twenty dormitory houses are located inside the campus. Each dormitory house has 9 private rooms and a common room. Monthly rent is about 25,000 JPY (approximately $200).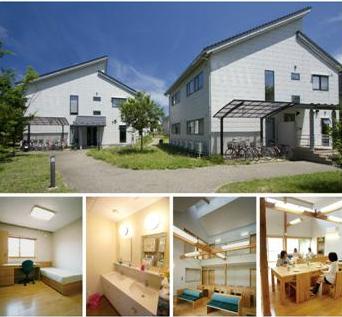 Koeki Dormitory:Views of Inside and Outside
Cafeteria
This is a modern cafeteria, equipped with Wi-Fi, with over 300 seats, which is a popular, bright and spacious place to self and group study and to relax.
Athletic Facilities
A gym, tennis courts, soccer field with a running track are available.
Environment
The place of study for Koeki students is not only on its campus but also all areas of Shonai. Shonai area is surrounded by all kinds of nature. Many historical and religious buildings and natural heritage still remain intact. Places such as Haguro Mountain with three stars in Michelin Green Guide Japon, Chidokan Academy and Zempoji Temple. Also famous is the local cuisine with seasonal foods such as fresh seafood (Sakata is a port city), top rated rice and a wide variety of fruits and vegetables special to the area.